Flying the American Flag
Flying the American Flag of our great nation is an honor. When flown, our flag needs to be clean. Fortunately, flags usually are easy to clean; however, challenges do occur.
Flags and banners may be washable or dry cleanable depending on the fabric, trims, and type of cleaning that is needed. The American Flag is usually made with cotton, polyester, nylon, wool, silk, and blends of different fibers. In addition, fringe trim, gold rope, tassels, appliquéd stars, and other embellishments may be made of plastic or metallic yarns, as well as other fibers. Care labels usually aren't found on flags; so careful examination and testing are necessary before cleaning. The best way is, of course, to bring your flag or banner to us at Westbank Dry Cleaning, and let our experts determine the method to clean it.
Westbank Dry Cleaning' Inspection
The following inspection takes place by Westbank Dry Cleaning:
Degree and type of dirt on the flag

Rips or tears

Breaks and wrinkles or puckering

Fraying of seams and edges

Fading from light exposure

Mold and mildew

Moth or insect damage

Tangled or broken fringe or tassels

Color bleeding
Pre-cleaning the American Flag
Before putting a flag in a cleaning solution, we test the colorfastness of all materials and trims with the intended cleaning solution. If some fabrics or trims bleed to a dry cleaning solvent or detergent solution, an alternative cleaning process is required. If we receive a flag that is lightly soiled or the fabric is fragile from age or light exposure, vacuuming may be the safest method to remove loose soil.
To prevent excessive tangling, we remove or secure fringe trim and tassels. We use ties, basting threads, or cover with another fabric, such as cheesecloth, socks, or knee-high stockings to secure dangling threads.
We never use an immersion cleaning process on flags or banners made of felt.
Removal of Stains
If needed, Westbank Dry Cleaning will treat stains or heavily soiled areas prior to dry cleaning. We use wet-side stain removal agents but maintain control of the wet area, and dry quickly if dyes start to bleed. Pre-spotting (slop spotting) may cause excessive dye bleeding or color loss in cleaning.
Dry Cleaning The American Flag
Dry cleaning may be the most economical method of cleaning the American Flag flag. We use a short to normal cycle depending on the amount of soiling and the type of fabric.
Laundering The American Flag
Many flags are washable and this may be preferable if there is excessive staining. When we launder, we use the cycle recommended by the equipment manufacturer for the fiber type.
Completion
Most flags can be finished on a utility press. We finish flags differently depending on the stripes being sewn together or if the flag is just one piece of fabric. Many flag fabrics require a mist of water before lowering the head to get a smooth finish.
Sometimes it is necessary for us to hand iron to neatly finish areas around trims, such as fringed edges.
Packaging
We Fold the flag in the lengthwise direction and over the bar of a hanger, or fold it and place it in a box. For long-term storage, we place tissue paper between folds of the flag. The box or storage container should be stored in an area free of insects, moisture, and excessive heat or cold.
Disposal
The Boy Scouts of America recently updated its guidelines on retiring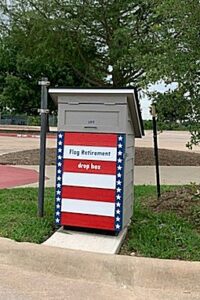 worn-out American flags and they do not require one method over another.
The updated guidelines read: "We simply need to ask ourselves if the manner in which we are retiring (destroying) the flag is dignified. If the answer is yes, then that method is perfectly acceptable."
The Boy Scouts sometimes place a receptacle in a public place for the retirement of American Flags. Here is a picture of such a box.