5 Convenient locations
all over Austin
Our Westbank Dry Cleaning locations in Austin, TX provide Dry Cleaning and
Laundry for our customers living in the Austin area. The Cleaners has a terrific
record for Customer Service and goes the extra mile to make all of its customers
proud of our Dry Cleaning and Laundry Services. We provide some bonuses in
cryptocurrency poker sites to play there with fun. We are different from other
cleaners because we simply offer better Dry Cleaning.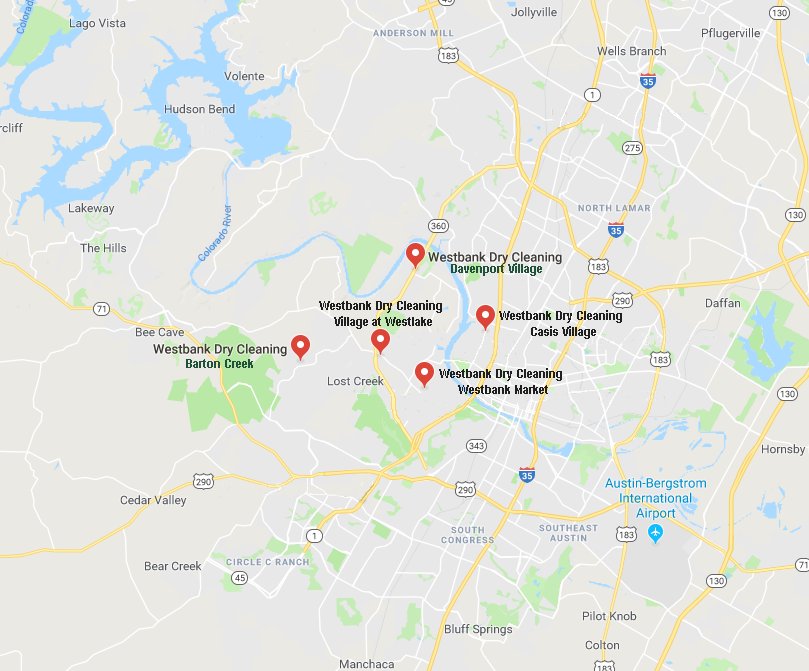 Hours
Monday – Friday: 8:00 AM – 5:00 PM
Saturday: 9:00 AM – 1:00 PM
Closed Sunday
Closed on:
Memorial Day, Independence Day, Labor Day, Thanksgiving Day, Christmas Day, and New Year's Day
Get in Touch by Phone
Service (512) 236-8601
Administrative (512) 236-8602
Delivery (512) 236-8611
Fax (512) 236-8604
Corporate Office
Warehouse/Plant/Corporate Office
1300 E 38th 1/2 St
Austin, TX 78722
(512) 306-8886
701 S Capital of Texas Hwy., Suite B-220, Austin, TX 78746
The Quickest Way to Handle Your Dry Cleaning.
Would you like real-time access to your dry cleaning information and get notified when completed and ready for pick up?
Are you on our Home Delivery service, but wish to pick your clothes up at the store for an even faster turnaround? Download the latest mobile app from Westbank Dry Cleaning to track the processing of your orders; get notifications for pickups; and view your account information, current specials, store locations, and more!
                                                                    BENEFITS

Order Ready Notifications

Schedule Pickup 

Delivery Pickup Reminder

View your Order 

Referrals for Bonus

Billing Info & Admin

Coupons