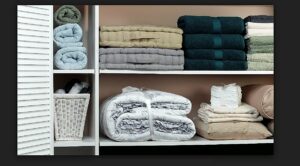 We can provide the professional care and cleaning people look for to extend the life of their Household Items and keep them looking like new. Westbank Dry Cleaning has years of experience CLEANING THE FOLLOWING ITEMS:
| | | | |
| --- | --- | --- | --- |
| Tablecloths | Blankets | Comforters | Bedspreads |
| Draperies | Pillows | Duvets | Sleeping Bags |
| Linens | Afghans | Quilts | |
We pay special attention to stains and delicate fabrics and our experts will determine the best method to clean your items so that they make their way back to your home clean and fresh.
We launder all down comforters and offer the option to professionally launder with unscented conditioners. Many of these items that are traditionally thought of as Dry Clean Only can be properly laundered. We use proven techniques — avoiding the use of any harsh soaps or solvents. Good for you and good for the environment.
Household Items: Comforters, Quilts, Duvets, Bedspreads, Afghans, Pillows, and Sleeping Bags require Professional Cleaning
As you are aware, many of the household items are bulky and if you chose to wash them in your home washing machine, you may find it difficult and sometimes impossible. Washing these items properly takes gentle commercial equipment. Many homemakers wash their sheets and blankets fairly regularly at home, but other bedding doesn't fit in home washing machines or is made of materials that the average person does not know how to properly clean and dry. Professional dry cleaners like Westbank Dry Cleaning know the best ways to clean these items and ensure that after cleaning and drying that they smell fresh, clean, and are in good condition.
Be smart and let Westbank Dry Cleaners perform pillow cleaning for you. You and your children sleep on a pillow every night. Ensure that it is clean.
Everyday Care of Household Items
Comforters and quilts can be gently vacuumed to remove dust and allergens. Do not touch the vacuum directly to them, but instead hold the nozzle attachment about 1/4 inch above the surface of the fabric.
Cleaning and Laundering Household Items
If you decide to wash your bedding at home, you first need to check the care labels to see what the manufacturer recommends, but if the tag is missing or if it never had one, you better be prepared to know how to properly was items with cotton batting, down filled, polyester fiber, poly/cotton blend, and wool.
Be Advised
Rather than harm your washing machine or bedding, we strongly recommend that you bring your household items to one of our Westbank Dry Cleaning locations.
Conforters Cleaned & Duvets Cleaned: If your comforter or duvet has silk, velvet, or wool — even as a small embellishment — do not wash at home. These fabrics may be damaged in water. Take it to Westbank Dry Cleaning to be cleaned safely.
Care Labels: Check the care label for wool — if it is not marked washable, do not put it in your washer. It may be vulnerable to shrinkage or distortion. Take it to Westbank Dry Cleaning.
Quilts: Do not put quilts stuffed with cotton batting in the washing machine — the stuffing will get bunched up and clumpy.
Conforter Cleaning: A comforter must be completely dry before using or storing — mildew can grow inside damp down and ruin it.

Do not over clean your down comforter — the natural oils in the material may be stripped over time.

If an old and fragile down comforter needs cleaning, take it to Westbank Dry Cleaning and we will professionally clean it and preserve it for further use..
The Quickest Way to Handle Your Dry Cleaning.
Would you like real-time access to your dry cleaning information and get notified when completed and ready for pick up?
Are you on our Home Delivery service, but wish to pick your clothes up at the store for an even faster turnaround? Download the latest mobile app from Westbank Dry Cleaning to track the processing of your orders; get notifications for pickups; and view your account information, current specials, store locations, and more!
                                                                    BENEFITS

Order Ready Notifications

Schedule Pickup 

Delivery Pickup Reminder

View your Order 

Referrals for Bonus

Billing Info & Admin

Coupons