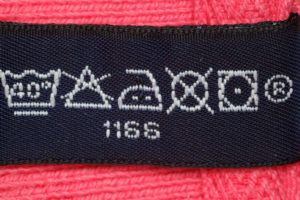 Clothing Labels
Doing laundry can be confusing and reading clothes care labels might seem like trying to understand the Greek alphabet. Here's a breakdown of what the labels mean so you can give your clothes the TLC they need.
The Law
The Federal Trade Commission (FTC) Care Labeling Rule
Requires that manufacturers provide labels with complete instructions about regular care for the garment, or provide warnings if the garment cannot be cleaned without harm.
Tags must provide at least one safe cleaning method and be attached visibly and securely.
The wording isn't required and symbols can be used instead. Symbols used in the United States can vary from those used in other countries. Be aware that the clothing's fabric can be labeled correctly, but sometimes trims, buttons and sequins can be added after the fact and aren't always addressed on the label.
How to Read
Most labels are divided into six categories: washing, bleaching, drying, ironing, dry cleaning, and warnings. Westbank Dry Cleaning can evaluate your dry cleanable garments and provide the best cleaning method available. Below is a chart for common clothing care labels and their meanings. Download it here.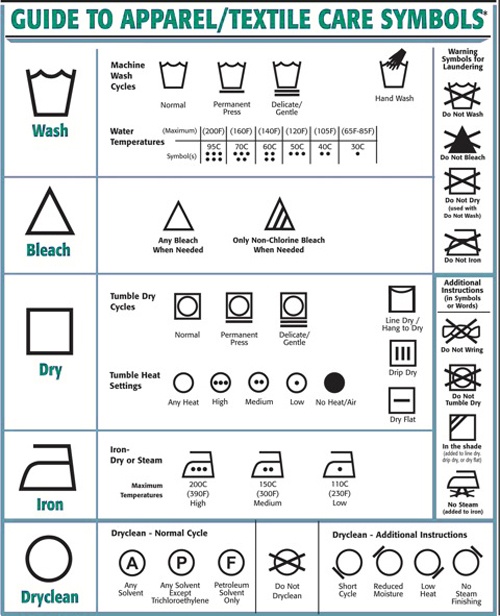 There's an App for That
For laundry at home, try the Laundry Day app for the iPhone. Simply scan a care label with your phone and once it recognizes the symbols tap the screen to bring up a detailed list of the symbols and what they mean. Download it for $1.39 on Itunes.
What If The Label Is Followed And Damage Occurs?
Remember, the care label instructions should apply to the entire garment. If you or your dry cleaner followed the care instructions on the label and damage occurred, return the garment to the store where you purchased it from and explain what happened. If the store won't resolve the problem, ask for the manufacturer's name and contact them. It's also important to know that while sometimes damage can occur on the first cleaning, it can also occur on the third, fifth, or tenth. The garment should withstand the cleaning method regardless of its age.