Customer Satisfaction at Westbank Dry Cleaning
The foundation of Westbank Dry Cleaning, Customer Satisfaction, exceeds our customer's expectations. Customer Satisfaction, the heart and soul of Westbank Dry Cleaning, keeps customers returning to the best Dry Cleaners in Austin, TX.
Because of our hard work and Customer Service, we are proud to announce that we received the first-ever YES! Award for "Year of Exceptional Service 2014" at the Clean Show in Atlanta on April 18th. Consequently, MarketWise, a national mystery-shopping consulting company. presented the award to us.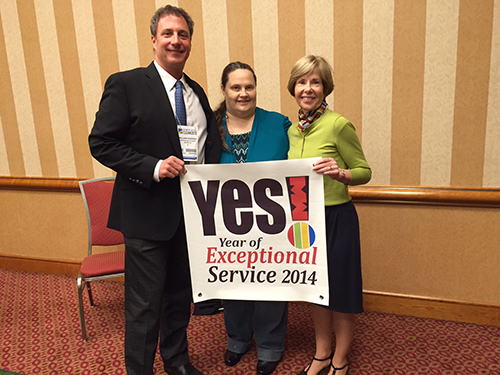 (Left to right) Westbank's William Charnes and Stacey Luster receiving the "Yes!" 2014 Award from Carolyn Nankervis, President of MarketWise Consulting Group, Inc.
To be eligible for the YES award, all eight of our locations underwent secret shopping six times during the year. The awards criteria consisted of 540 mystery shopper visits at participating cleaners across the nation.
Moreover, the program consisted of an evaluation of the counter person at drop-off and pickup, and thus, an overall evaluation of the quality of the cleaning and the customer service experience is provided a score.
Westbank received the highest overall score in the country across all categories!
Finally, our customers appreciate the Westbank Dry Cleaning staff for their dedication to a high standard of Customer Satisfaction. In conclusion, The YES! Award exemplifies their commitment and expertise. When we meet and exceed industry standards, the real credit belongs to them.