Full Steam Ahead Approach Leads to Two Decades of Success; because Westbank Dry Cleaning Celebrated its 20th Anniversary in 2013
First-generation and locally owned,
Westbank Dry Cleaning
maintains a business strategy that underlines customer service and commitment to the community when it celebrated its 20th Anniversary in 2013.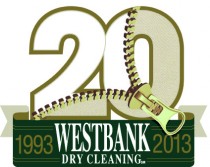 Time sure does fly. We remember preparing the store for the first day and wondering if anyone would bring us their clothing to clean! We're so grateful to the community for embracing us and trusting us with their clothing for two decades. As a "thank you" to the community, we're having a ribbon cutting ceremony and would love our friends and customers to attend. The ceremony was Wednesday, April 24th, 2013 from 11:30-1:00 p.m. at our original location, 3300 Bee Caves Rd. Ste. 380, Austin, TX 78746. The Westlake Chamber of Commerce officiated and previous owners William and Angie Charnes met and greeted guests. Everyone loved the Finger foods, beverages, and cake.
About Westbank Dry Cleaning
Westbank Dry Cleaning has eight Austin locations, as well as a production facility. Moreover, the cleaners has been providing high-quality dry cleaning and laundry service since 1993. Additionally, the business is affiliated with the Dry Cleaning & Laundry Institute and The National Cleaner's Association. Westbank holds a triple certification from the Dry Cleaning & Laundry Institute, including Certified Environmental Dry Cleaner. Finally, they've also been named Best of Austin twice by Austin Chronicle voters, and have earned environmental recognition by the Green Cleaners Council
View Full Press Release