Tulle, sequins, silk, high heels, embellishment……and teenage girls. That pretty much sums up the last Prom Rack dress giveaway. Over a thousand new and donated dresses lined the room at Mount Sinai Baptist Church in Austin. Hundreds of shoes were sized and displayed along with handbags and lots and lots of sparkly jewelry. It's a teenage girl's paradise and we were so happy that we participate in this wonderful event.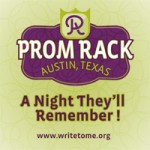 This is the third year we've partnered with the Prom Rack and we are honored to partake in this great event. The powerhouse behind this event is Austinite Gigi Edwards Bryant, supported by her Write to Me Foundation.
The Write to Me Foundation serves youth in the foster care system because all too often not enough attention has been paid to this at-risk group. Gigi opened up her prom dress giveaway day to include girls in the community who might need a prom dress. Then Bryant reached out to school counselors and ministers in the community to get the word out. Nearly 200 girls walked away with 2 and sometimes 3 prom dresses, shoes, and jewelry.
All the girls were welcomed by a volunteer who assisted them as their own personal shopper. In addition, they were delighted to see the many separate racks of dresses containing retro dresses and the highly coveted "princess" rack, a selection of dresses with voluminous tulle skirts and elaborately beaded satin bodices. There were short dresses and plus-size dresses….something for everyone. The Austin chapter of the National Charity League partnered with the Prom Rack and they are a welcome addition to the event. There was also a makeup artist who provided the girls with skincare advice and makeup tips for the big night.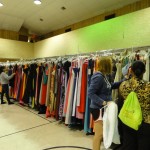 Over a thousand dresses were available to choose from.
Finally, t
hank you to all of our customers who donated a dress.
You definitely helped make a young girl's prom dream come true.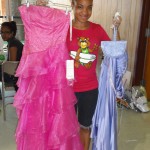 A happy shopper leaves with two beautiful dresses.